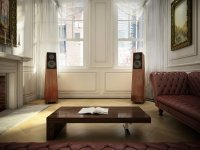 Finn, a new high-end, high-efficiency loudspeaker from Verity, redefines the standard of excellence for compact loudspeakers. Its high efficiency, along with its stable, 8-ohm nominal impedance, offers unusually natural dynamics with a wide range of amplifiers. The Finn's driver quality, advanced cabinet construction, exceptional industrial design and fit-and-finish embody the true essence of Verity's high-end perfection.


Efficiency: 91 dB 1W/1m;
Fully custom-made proprietary transducers using state-of-the-art technologies;
Startling balance of transparency and musicality, complete with a nice full mid-bass to lower mid sound;
High and stable impedance for an easy adaptation to a wide range of electronics;
Verity's unique rear-firing woofer configuration provides extreme definition down to the lowest octaves;
Small size at no loss of performance;
Gorgeously crafted and finished with exquisite Italian lacquer, plus a choice of optional Verity wood veneers.